This article was originally published in the El País Newspaper. You can read the original version, which was written by José Ángel Plaza López, here.
According to Lasse Rouhiainen, an expert in disruptive technologies, universities must tackle structural reforms to adapt to the new demands of the labor market.
For every report stressing that artificial intelligence (AI) will eliminate millions of jobs, there is another one with the opposite message, calling for calm, stressing that this technology will generate endless jobs and even give rise to professions that do not yet exist. In fact, Gartner predicts that by 2020 the jobs created by AI will outnumber those destroyed by the same disruption: 2.3 million versus 1.8 million.
But in practice, this positive balance does not directly translate into opportunities for all. To illustrate, Lasse Rouhiainen, author of Artificial Intelligence: 101 things you should know today about our future, uses the following example: in the hypothetical scenario of a taxi driver being left without work due to the emergence of autonomous vehicles in public transport, it may not be so easy to reposition him quickly as a chatbot developer, or in another similar job, due to lack of the appropriate knowledge or skills.
"It is very good to highlight the impact of AI in terms of job creation, but the problem is that many people who lose their jobs will need a reeducation to qualify for these new positions, so we should all be preparing for it," says Rouhiainen.
This is something that the government of Finland, the native country of this Alicante based author, understands very well. Finland's Ministry of Employment and Economy published a report last June that highlights the need to protect and strengthen the skills of employees in the age of artificial intelligence. Specifically, the government has announced that it is necessary to reeducate one million Finns (20% of the population) to acquire new knowledge and skills, and to learn about the importance of ongoing training.
From universities to learning platforms
Finland's public initiatives around AI have accelerated university reforms to adapt to changing times—so much so that even the rector of the University of Haaga-Helia, where Lasse Rouhiainen is a frequent guest lecturer, says that in just a few years this institution will be called a "learning platform."
This is because in addition to traditional education it will offer micro-courses focusing on different themes for young people and adults, specifically oriented to the reeducation of professionals in response to the demands of the changing work environment. "We are talking about reeducation and ongoing training, which will be taken into account when granting subsidies to universities," says Rouhiainen.
Lasse, during a conference.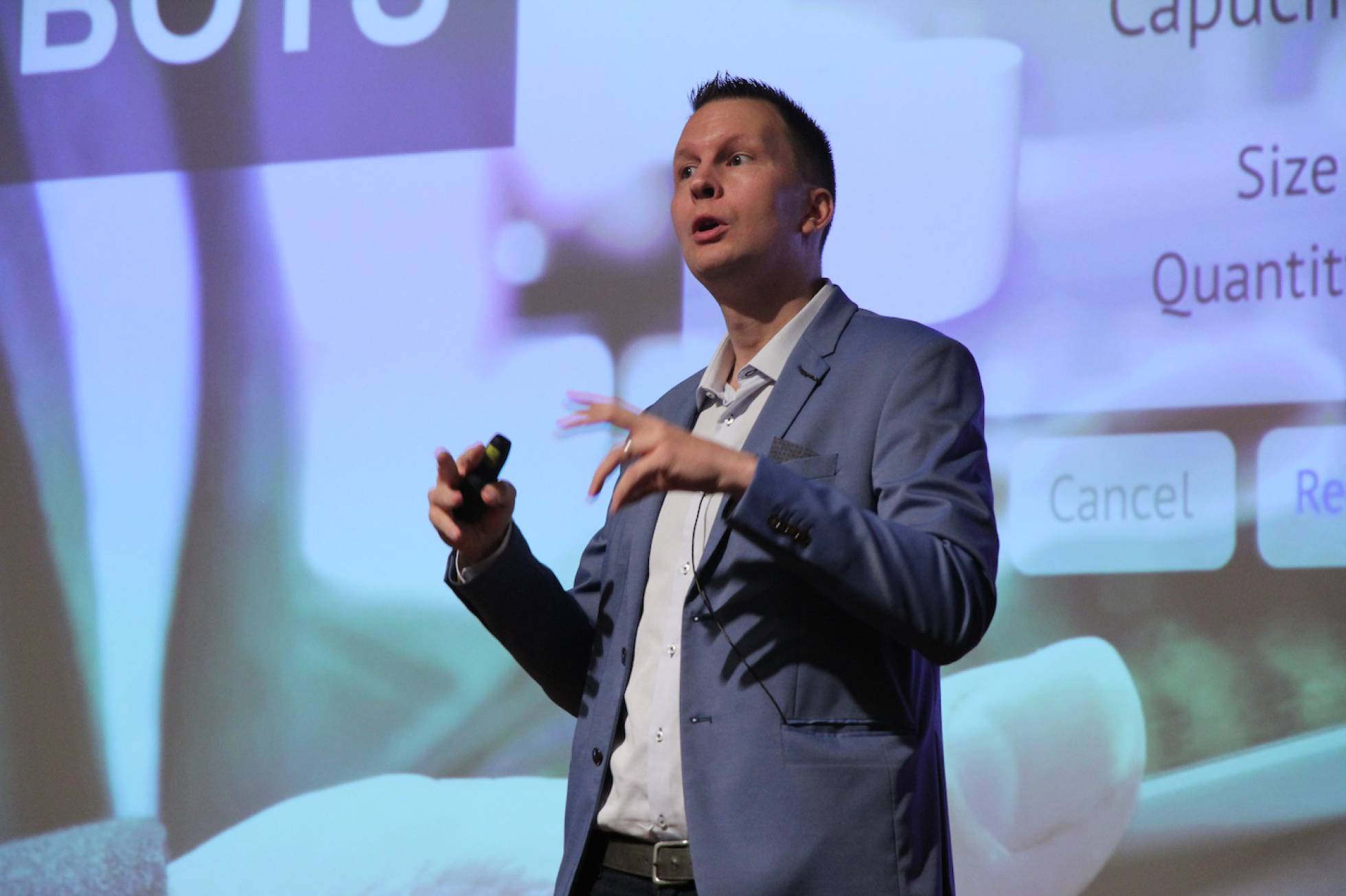 At the moment, Finnish citizens are showing a lot of interest in this training. Not surprisingly, on May 2018 the University of Helsinki started offering a free course on AI that has already exceeded 170,000 students. In addition, the Universities of Haaga-Helia, Laurea and Metropolia have started using an AI tool that identifies the needs of companies in real time by researching and analyzing the required skills listed in their job ads, and then quickly customizes educational and training recommendations based on the results.
On the other hand, Rouhiainen points out that while almost all the political parties in Finland are expanding their proposals on how to adapt to this new situation in the labor market, "in Spain this issue is still not being taken into account, or very little is being said about it, because it gives greater relevance to other internal problems, although it is already clear that this technology that we live in will mark a new reality in our society."
As a result, this expert encourages the Spanish government to follow in the footsteps of Finland and other countries that have made a clear commitment to AI, included among which are Denmark, which has appointed Casper Klynge as Tech Ambassador; and the United Arab Emirates, which has appointed Omar bin Sultan Al Olamaas Minister of State for Artificial Intelligence: "These specialized positions within the government help to keep up with the latest advances in technology, while also supervising key issues such as privacy, ethical use and public benefits."
Even so, Rouhiainen has certain doubts about the strategy of the United Arab Emirates around AI: "My distrust is that maybe they follow the same ideology as China, that is, that they first develop the applications and then consider the ethical issues, when it should be the reverse."
His critical view also applies to the competitive race between China, the United States and Russia to show which country has the greatest ability to be at the forefront of AI: "It has become a kind of contest, but the really smart thing would be to collaborate between them, which would lead to incredible creations."
And speaking of incredible creations, one that has garnered many headlines in recent months, the humanoid robot Sophia, does not seem to impress Rouhiainen very much, nor does the granting of Saudi citizenship to this machine: "Although it is good to show at fairs, to share possible advances, I'm not a fan of Sophia. Rather than integrating advanced artificial intelligence, it seems to be programmed to answer certain questions. Also, Saudi Arabia granting it civil rights is no more than an opportunistic publicity stunt in its effort to become the next Dubai."
Other related articles on artificial intelligence: